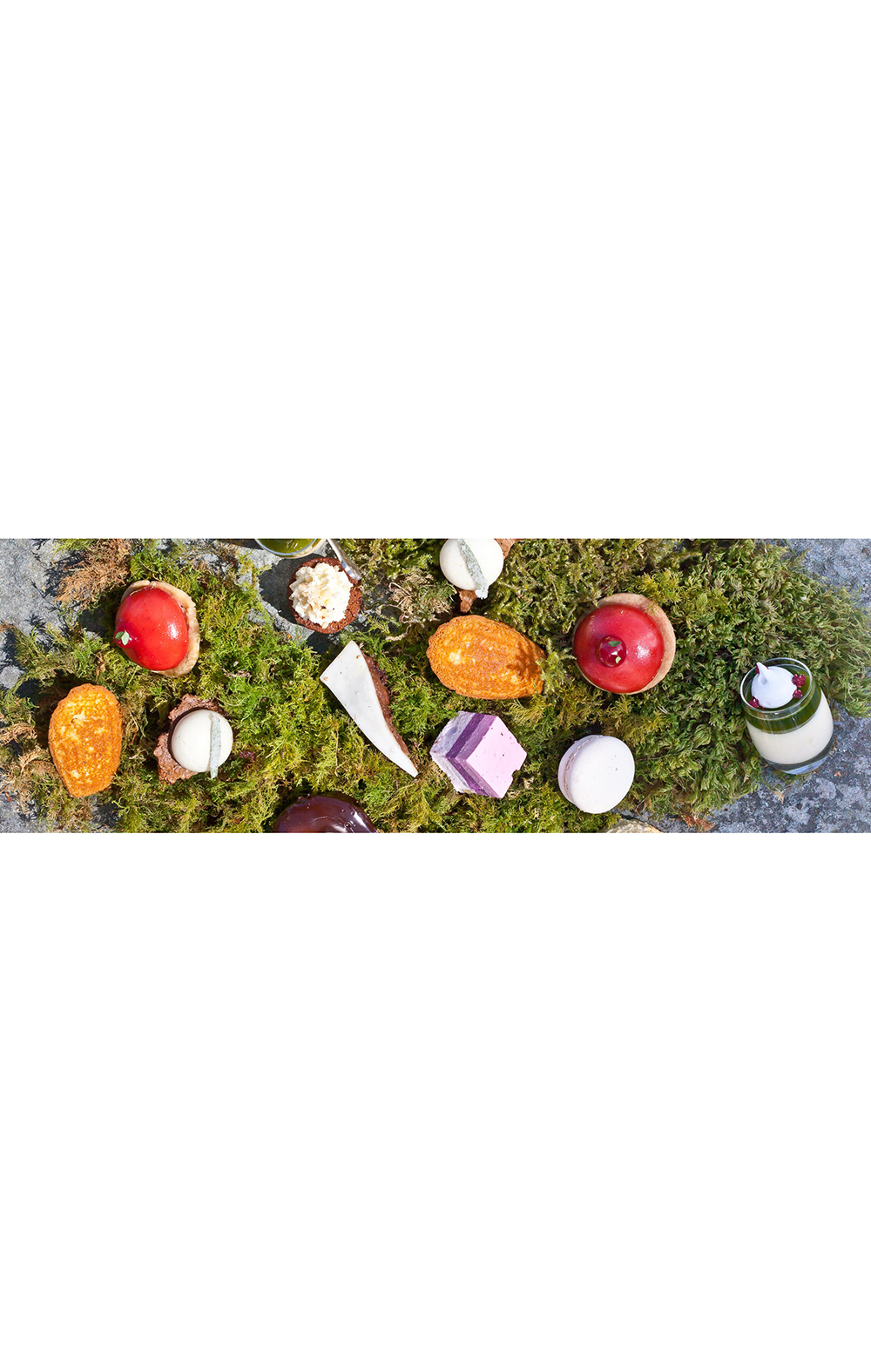 Everything is Better in Two's…Best Afternoon Tea & Grand Getaways
Take Tea, Eat Cake & Find Quite the Handsome Hideaway, at The Lakeside Hotel & Spa
Sometimes a little bit of indulgent luxury, can be quite the tonic for that spark of romance, escapism and to just be…well…somewhere other than home.  The blink-and-you-will-miss-it pace of the world does its very best to ensure that life revolves around all work and no play to be seen or heard of.

Then there are homework handouts; rainy-day football matches to spectate; endless hours of ballet pirouettes; unhinged birthday parties and a social calendar that starts and ends with the children.  Although, all these recreational and educational morsels are somewhat tedious in nature, they are what transpires
as a normal family life and a happily fulfilling one at that.  We do not want to eliminate these things, but a tiny break from it all, is much-needed now and then.  Perhaps, an extra special anniversary getaway?  Or a handful of nights full of relaxation, Fine Dining and a dwelling place to just 'be'.  All sound hugely familiar?  Maybe it is time to cart the children off to the grandparents; dust down that trusty leather suitcase; pack that novel that has been collecting dust and head to Windermere and peaceful bliss, at The Lakeside Hotel.
Laze and gaze out on The Terrace, for practically the prettiest view of Lake Windermere, in all its' glistening glory.  Embrace Mother Nature herself, as cruises hum by; swans glide; ducks bob and Lakeland lovers row through the ripples, with smiles on faces.  Find inspiration amongst the English countryside; sip the best loose-leaf tea; relish in the succulent afternoon tea sandwiches and delve into soft sponge, in manner of a very eclectic Alice and Wonderland Tea Party.  For the Lakeside Hotel proudly serves quite the unique take on a vintage tradition, with a background of lush greenery and a vivid pop of colour from their garden's swaying flowers.  So, roll out your napkin, sit back, enjoy the moment and the finest Afternoon Tea experience, with a terrific twist.
The English 'way' of Afternoon Tea etiquette, is to eat one's sandwiches first, with fingers not cutlery.  Then the scones, where one should break in two, by hand not with a knife.  Each half eaten separately blah, blah, blah.  It is time to shoo away old bygone traditions and make way for a concoction of madness and vitality.
Head Chef, Richard Booth's brave approach to this alternative Afternoon Tea is somewhat intriguing. He miraculously mixes modern with lines that are crisp and polished.  A visual explosion of colour inspired by his regular strolls through the grounds of Lakeside.  The savoury and sweet treats on the stark white plates, reminiscent of the floral treats amongst The Terrace and beyond. Giving Mother Nature and her gracefulness the recognition she very much deserves.  When you talk about food with Richard, his face lights up with incredible animation and is always proud as punch to share his knowledge and experience, with a Cheshire-cat-smile that never leaves.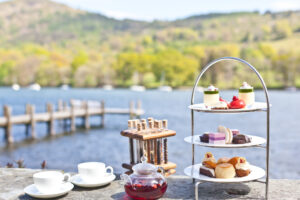 When discussing his Afternoon tea, he states,
"I wanted to make it more of an event, rather than just Afternoon Tea, so guests can laze around all afternoon. This is why I wanted to break up the courses, so they do not feel as if they have to eat everything at the same time"
Basically, this experience is no 'Average Jo' affair, it is a rarity filled with a plethora of sensations, textures, colours and unbeatable presentation.  It is as though you are looking through the looking glass and peering out at what this English tradition should really look like.  Afternoon Tea, here at The Lakeside, starts with a fresh and vibrantly chilled cucumber soup, which wakes up your senses ready for the extraordinary feast that awaits you.  Then there is a splendid host of sandwiches, followed by a rainbow tower of cakes.  A tower that tells a story, evokes memories and captivates all at once.  There is a feathery raspberry mousse in a candy-cane-striped soft sponge and a white chocolate mousse with an alfonso mango centre, embraced with a mango mirror glaze.  A velvety vanilla and creamy chocolate cookie graces your plate and an enticingly exotic passionfruit and coconut éclair.
There are also beautiful buttermilk scones; perfect lime-green pea and mint macaroons and a zesty strawberry sandwich encased with crème fresh Chantilly cream.  Said cake pays homage to the classic Victoria sponge, named after Queen Victoria, whom was thought to have been the first to 'do' Afternoon Tea.  The finish is just as exciting, as you spoon Granny Smith Apple sorbet into your mouth, to refresh the palate and undergo a cold awakening, back home, to your loved one and The Terrace, after your tasteful journey.
During this afternoon event, you will sip from fine porcelain, encasing the most breath-taking and distinctively different loose-leaf teas.  Teas that are cleverly and carefully chosen. They do not overshadow the array of sandwiches and cakes before you. Be introduced to Blue Lady, an Earl Grey tea excluding bergamot and laced with grapefruit flowers, for that punch of citrus zing. Indulge in the Silver Needles tea, a white tea that is soft in taste but still has the amazing ability to refresh.  Perhaps because it is lovingly picked at dawn with only the top two leaves being chosen. This is so that the shoots do not open in sunlight and not cause chlorophyll to manifest within it's leaves.
A very scientific statement, but Richard cares about how the taste of the tea in your cup, should be just as super special as the cakes you nibble upon. Jasmine Pearl tea is also present, hand rolled little pearls of jasmine heaven that may have quite the impressive price tag, along with the Silver Needles tea, but will always enliven and tantalize those willing taste buds.  Their slow-dried Orange and Passionfruit tea is simple but practically packed full of flavour that gleams bright within your cup.
We think that Richard has created and designed an awe-inspiring event, that will leave you speechless, as the flavours dance and the experience is stored within your memories.  When talking about his ingredients, Richard says that,
"Food is personal to me.  From locally sourced jams to far away mangos, this Afternoon tea is for someone who wants a tea and cake journey"
After all is sipped, eaten and appreciated.  Feast upon the landscapes of the hotel and its' sparkling Lake view. Maybe paddle out on their rowing boat, for a spot of romance and a splash of adventure upon the water.  You can stay here just that little bit longer, as The Lakeside offers the most desirable deal, with four nights for the price of three.  Experience more together here, for a breakaway from the madness and mayhem of reality and embrace the luxury of a superior hotel.  Everything the Lakeside presents, and delivers is the reason why it is one of the best getaways for couples in the UK, alongside one of the best hotel deals, within the Lake District.
To book your romantic breakaway for two and to escape everyday life, peruse their offers.
For a distinctively individual and one of the best experience gifts you can purchase, for loved ones, why not treat someone to our Afternoon Tea Experience Gift Voucher?
To be your very own Alice and Madhatter, sample the sweet and savoury tastes of our Afternoon Tea and browse Richard's menu.
Relax, recoup and restore your senses together, within the serenely restful walls of their Aveda Spa.