A family's guide of things to do in the Lake District, that will make your country Christmas some kind of wonderful.
The Lake District is renowned for its luscious green landscape filled with all manners of nature, history, culture and the raw untouched beauty of its hills.  Each twist and bend of your Cumbrian adventure takes you on a journey of discovery and the memories of the picture-perfect views never leave you.  A place that promises fields of pretty flowers in Summer, snow-peaked mountains in Winter and always peaceful serenity by the Lake.  Just imagine all this and then adding the sparkle of Christmas and a dusting of luxury at the Lakeside Hotel.  What a special breakaway it would be and one that your family will remember forever.  Find your own kind of magic in the Lake District this year and capture the true essence of Christmas, which begins as soon as you step into this magnificent hotel.
Fairs – The Traditional, the 'Foodie' & the Wild
A short drive from the Hotel will bring you to quite the interesting array of locally sourced produce at Hawkshead's annual Christmas Fair, which welcomes in the first weekend of December nicely, and the first snippets of festive cheer along with it. 
On Saturday 1st and Sunday 2nd, you can explore the unique gifts and crafts of Cumbria that adorn the traditional stalls, whilst enjoying the charm that comes with a small village at this time of year.   Take in the culture of the theatre and sip mulled wine to the sounds of live music.  Be amazed by all the cheerful jugglers amongst the twinkling lights and gaze at the mystic lantern parade through the atmospheric streets. The little ones in your life will delight in the fun-loving nature of this fair and you will feel all nostalgic with the memories of a childhood Christmas through their eyes.
The blissful village of Cartmel is one of the Lakeside's favourite Christmas destinations, as the place itself sits ever-so-pretty around a medieval priory and is home to artisan shops, quintessential boutiques and the famous sticky toffee pudding.  On Friday 16th December, Cartmel transforms from a quaint Lakeland village into a Winter Wonderland with its arrival of their Christmas Food Market.  All food-lovers will experience joy here and will relish in all that is homegrown and handmade from local producers, filled with the passion and pride of this district.
Cruise from the hotel's private jetty and make your way over to the hustle and bustle of Bowness-on-Windermere for a piece of quirky family fun.  Saturday 8th and Sunday 9th December is a time when Windemere is painted in vivid red and green and lights hang from every tree and post.  An atmosphere full of jovial merriment and a place that is filled with the pops of snow cannons, little giggles from Santa's Grotto and the cheerful notes from live music.  An amusing way to celebrate with the whole family in this playful and wild bijou town and a chance to take a candid photograph or two.
Lights of Christmas Cheer
You and your children will feel the first joys of Christmas, as the trees, lampposts and rooftops come to life and light with just a flick of a switch.  On Saturday 17th November Ambleside turn on their displays throughout the village, with Christmas Fairs and stalls sporadically dotted around for you to potter and peruse.  The children can jump onboard the steamers in search of Santa and then experience the festive magic, as he rides through the streets on his sleigh.  Later into the evening, be blown away by the majestic lanterns and the fireworks that light up the sky above Rothay Park.
Saturday 1st December is the night Windermere and Bowness turn on their lights to glitter this scenic town with warmth and welcome.  Join the thrill of the crowds, as they dip and dive into boutiques for a spot of Christmas shopping and stock up on festive treats for the family.  Take in the Winter lights as they turn on one by one, with the help of Santa and his elves.
If you find yourself in Keswick on Friday 23rd November, you will encounter this traditional town welcoming the countdown to Christmas.  An exciting afternoon and evening of lights, music, food and craft stalls for all the family to enjoy.
A Festive Hall, a Victorian Christmas and a House of Crafts
For something extra special this year, visit Blackwell's Christmas Craft Fair on Saturday 1st December, for gifts that are lovingly crafted by the finest local producers.  Set in a magnificent example of an Arts and Crafts house, it provides a wonderful setting for your first weekend of Christmas.  Here you will find it ever so hard to not feel the warmth of festive spirit, as you envelope yourself in the walls of this unique house.  Set the children free to run through Blackwell's spectacular grounds of Winter, as you relax in the café.
If you fancy exploring the Lakes a little further then why not take a drive out to Keswick, who will be hosting their Victorian Fayre on Sunday 2nd December, which is a most interesting spectacle indeed.  A day and night filled with a bright atmosphere of eccentric costumes, live music, entertainment, carol singing, stalls and an enchanting appearance of Santa and his reindeers.  The children's fun fair is a must for your little ones and you can watch their little faces gleam, as you sample the local homemade delights of mulled wine and mince pies, by the nativity scene.  A place to leave the high street behind and indulge in a fun-filled day out at this energetic town.  With something for everybody it really is a destination that is worth the drive through the country roads.
Holker Hall is so beautiful in the chillier months when the grounds are frosted, and the hills are snow-tipped and Winter-white.  From Friday 30th November through to Sunday 16th December they are hosting various sophisticated events that are most definitely dates for your diary.  For both romantics at heart and children yearning for adventure, this countryside estate will offer quite the lovely day and night out.  Glide through the great hall decked in traditional shades of ruby red and emerald green from Christmases past.  Or book the children to meet Santa, Mrs Claus and their mischievous elves for a sing song by the fire. There is also a Christmas concert in the hall, a VIP evening and a candlelit dinner to experience. Holker Hall is a place where you can find escapism of a bygone time and succumb to its historic charm.
A Spot of Magic for the Children
Is there a more magical place for children to be at Christmas time than The World of Beatrix Potter?  Take a boat and sail down to Bowness-on-Windermere to find a Winter Wonderland that is just as special as any fairy-tale they hear at night.  Watch them as they step into a world of imagination and enjoy a tea party with Father Christmas and Peter Rabbit, as well as Christmas sing-a-longs.  Let their dreams come true as they see their favourite characters come to life.
The Lakeside and Haverthwaite Railway's 'Santa Express' starts from 1st December until the 16th December and it promises to be a perfect festive adventure for all the family.
  Interact with the elves who dance and sing with the children, as well as serving seasonal spiced drinks for the adults.  A remarkable train journey that is full of joy, laughter and a place for happy memories.   The children will be in awe, as they travel through the carriages, to meet Santa himself who will have a special gift for each of them.
Windermere Lake Cruises's 'Santa Cruise' is also very popular for families with young children, and with Santa joining in all the fun, it is also a journey full of special moments.  Throughout the cruise there will be games, music, sherry and mince pies for the adults and festive cheer in abundance.  Each child will get a gift from Santa, as they have fun with his jolly elves.  Such a lovely trip for all and a great way to admire the Lakeland views and the rolling hills beyond.
Lakeside Hotel – The Place Where it all Begins
Once you arrive at the hotel, the staff will make you feel as special as the feeling your children will get on Christmas Day.  A breakaway filled with splendour, magic, cheer and that luxury you only get from superior hotels such as this.  The food and wine is served in surroundings of elegance and style by the beautiful backdrop of the Lake.  The sublime attention to detail fills every room, from the draped twinkling lights to the ivy resting in clear crystal, the Lakeside Hotel delivers the best experience one could hope for.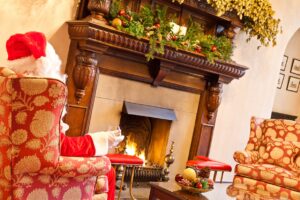 The hotel's range of stylish and practical family suites and spacious interconnecting rooms make them the perfect destination for families.  With rooms that promise a refreshed feeling in the morning, after a restful night's sleep, and a family that wakes ready for a Lake District adventure.  Why not treat all your loved ones to the Lakeside Experience Gift Voucher for a truly magical Christmas break that is tailor-made just for you and your family?  The Lakeside Hotel has also introduced their Winter50 promotion from the 4th November, when booking a bed and breakfast room with a minimum of a two nights stay.  Take advantage of this wonderful offer and save 50% on your festive escape with their Build up to Christmas package, as well as other Winter50 promotions at their Aveda Spa and fine dining experiences.  Call 015395 30001 for more information on all their Christmas offers this year and start planning your festive getaway today.
**Please note that event dates are correct on the day this post was published**