Make your own decision as the criteria unfolds…
Ever the dubious question in the travel, hospitality and tourism industry, and let us be quite frank – rather perplexing at times.  With an interesting array of rating structures, complex categories and sky-scraping differences, depending on the country.  This means that said ratings can often be met with a scratch of a brow or maybe a modest sense of unwillingness to form any opinion at all.  Perhaps, for you, it is the homely comforts of the kettle and mini bar, the unrivalled customer service or the luxurious finishing touches of your room.  Five-star hotels have been known to be somewhat intimidating, whereas four-star hotels can carry a certain charm that radiates the joys of a wonderful guest experience.  For most, it is how the hotel makes you feel rather than what box it ticks.  With this in mind, let us explore the criteria of what it takes to be a five-star hotel.
Enhanced Services
The personal service of valet parking is a traditional facility that we embrace as soon as we arrive at our destination.  An amenity that has the power to potentially create the first impression of our whole stay and the initial vibe we identify, as soon as our feet pass over the threshold.  The friendly nature of a smile, the flawless execution of requests and a passion to assist will never be underestimated in this world.  The added elements of an in-house 24-hour concierge and room service are compulsory and ensure that all needs are met at whatever time of the day or night.  These continual facilities are sometimes important to guests, as they enjoy the sense of reassurance they give for the duration of their stay.
The unlimited access of a state-of-the-art gym, heated pool and destination spa are both huge tick boxes to most.  Having a breakaway does not mean that one should disregard the need for everyday routine, an early morning swim or even a chance to be completely pampered.  Since the growing interest in health and well-being, five-star hotels continually develop an understanding of the importance of this.  Now they have become driving factors, when guests are researching places to book, and are an essential criterion for such hotels.
Another trend within this industry is the rise of the business traveller and corporate events.  Years ago, business travellers would set up their temporary home within the likes of a hotel chain.  Companies, at one point, chose to entertain and hold conferences within similar venues.  Now, business travellers want a stress free and relaxing stay in luxury accommodation.  A place to recoup and regenerate the strains of the day and working week.  If we think about it, there are a huge amount of business travellers who live life on the road.  Around 80% of these travellers choose to make time for themselves on their trips, so having the luxuries from these hotels are a must.  Five-star hotels also offer conference centres for meetings, events and networking, which in turn has helped carve the path into the future of business travel and ultimately drive the hotel's occupancy.
Dining, Rooms & Staff
Dining is a colossal part of five-star hotels, as renowned chefs serve up visually stunning and uniquely palatable plates to both residents and non-residents.  An experience that exudes personality, individuality and oozes style.  A place that feels entirely separate from the hustle and bustle of the concierge area and somewhere that radiates a rare vibe unseen in independent restaurants.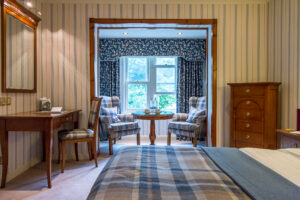 The accommodation in five-star hotels are always twinned with a stunning ensuite and offer rooms with separate bedrooms and lounge area.  You will get lost in the feeling of being somewhere special that will take your hotel experiences to the next level.  Rooms are decked with high-quality toiletries, super luxe towels, soft robes, velvety slippers and a bed you can simply cocoon yourself in for hours.  Everything you could ever need would be at your disposal, to ensure that your stay is full of the home comforts you crave.  The room's interior design will always be sublime and create the perfect ambience that will bring instant harmony to oneself.  What sets these hotels apart is the precision to the finer details and finishing touches that are meticulously designed and created.  There will often be a spectacular view that will take your breath away at night and will help you find beautiful escapism in the morning light.  After all, is a room with a view not the best room of all?
Five-star hotels will have exceptional staff who provide a personalised service with the highest attention to detail.  Ensuring all guest's wants and needs are met and recording such information for future visits.  They are the faces of the hotel and true ambassadors of customer care excellence.  Staff who will always address you by your name, so you feel more valued and less adrift or 'just a number' in a large hotel.  Their team with be highly motivated and dedicated in all manners of service and treat their guests as individual as the next.
In Summary
When you decide upon luxury accommodation at the Lakeside Hotel, you are also choosing to envelope yourself in sophistication, comfort and outstanding personalised service of a five-star hotel.  A place where all your expectations are delivered, and all requests are seamlessly anticipated.  So, why is this hotel a four-star rating?  Is it the void of a 24-hour room service or concierge that makes it so?  The services that are perhaps a little old-fashioned in our times and ones that have increasingly become overrated over the years.  The Lakeside Hotel might very well be a superior four-star hotel, but it is the guest focus and overall exceptional feel about the place that gives it that five-star essence.  The ultimate guest experience is one variance, in this industry, that will never sway, and you will undoubtedly find it here.