How a Superior Luxury Four Star Hotel 'Do' Hospitality
What do we think of when we roll the word 'hospitality' in our mouth?  The warmth of a smile?  The gleams and sparkles of cutlery and glass?  Those finishing touches?  A solid word that comes with wants, needs, specifics and expectations.  The Lakeside Hotel has this sustainable passion for commitment to hospitality, that is undeniably rare and goes above and beyond understanding.   For however long or short their guests stay, they are made to feel like the most important person in the world.  They have this utter complete focus on the guest, one guest at a time – through one fantastically focused employee at a time.  Is it a wonder why food-and-experience-obsessed guests make this luxurious hideaway a must-stay spot?  From their perfectly folded napkins to housing one of the Lake District's best restaurants, let us take a sneaky peek into the comings and goings of one of the best hotels in the area.
Stepping into the foyer of the Lakeside is akin to stepping into a different world altogether.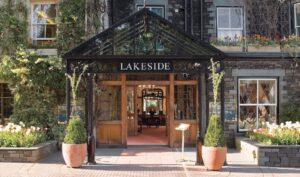 There really is a feel and sense of old-school hospitality that has been given a little facelift for these modern times.  Your shoulders relax and sigh with relief, when your unknown eyes meet the warmth of new friendly ones, as you check in and your experience begins.  You will not get the abandonment often experienced in hotel chains and undedicated places.  No eyes fixed to computer screens, lack of eye contact or unapproachable stances here.  Just relaxed attentiveness and the willingness to make your stay absolute perfection from the moment you arrive till the moment you depart.  What makes Lakeside so different?  Maybe it is the surprising revelation that their members of staff have been there for a long time.  Or perhaps it is not as surprising as you think when you see how content, loyal and devoted they are in what they do.  What makes the most difference is that they are a 'family'.  A family that supports each other, brings out the best in each other and basically get things done.  Together.  A close-knit group with oodles of experience, knowledge and seamless communication.  Nothing is too small, nothing is too great.  All that matters is that you, their guest, have an experience that will live on in memory well after you have waved goodbye and your tyres hit the tarmac on the road home.
These are the kind of people who will remember those irritating allergies, what table you prefer when devouring your Afternoon Tea, what your favourite tipple is and whether it is freshly squeezed orange or tomato juice at breakfast.  They record your wants, needs and hates so service is always running smoothly.  They learn to know who you are, as a person so they can create a bespoke breakaway without the annoyance of second-guessing and you constantly repeating specifications.  All guest information is recording safely, so when you grace the foyer once more, you will be greeted as part of the family and into their 'home'.  Your bags are taken to your room, while you potter through the hotel brimmed with fresh garden flowers, intrigue and promises of relaxation.  You are shown to your room which in turn promises solace, restfulness and escapism for the entirety of your stay.
Lakeside is more than just customer care or service; it's classic hospitality; welcoming guests into our "home", making them feel pampered yet comfortable, taking the time to talk to them so we can learn what they like and remembering these things for the next time they stay with us.
Lorna Webster – Training Manager
We all know how first impressions count for pretty much everything when it comes to hospitality and Lakeside are the pioneers in this field.  Setting the standards and flying the flag for superior and luxury hotels in the Lake District.  They have ample on-site professionals in central roles within their richly furnished and wooden-panelled walls.  Roger tends to Lakeside's award-winning estate gardens, where he assists the in-house florists, Jane and Tracey, who deck the stark white table linen, antique vases and add the aromatic brilliance that only freshly-picked flowers give.  Head Chef, Richard Booth, creates and designs the most visually stunning and flavoursome food, for an impressive fine dining experience. 
Then there is Marcus, their wine connoisseur, who lovingly selects the ideal glass that flawlessly compliments Lakeside's menu.
We believe in old school customer service; banished are the laid bare tables with simply a serviette to garnish that is such the fashion within 'trendy' eateries. 
Every table in our restaurant is superbly dressed in crisp white linen tablecloths, polished silver cutlery, magnificent Villeroy & Boch decorative plates and three styles of stemmed wine glasses.  Each setting must be perfect, with an eye for the detail; from the white gloves to the freshly cut roses, the setting is paramount to the whole guest experience.  Is there anything more romantic than a candlelit dinner for two under the gaze of the stars and the serene vista of Lake Windermere by night?
Daniel Buck – House Manager
Lakeside Hotel also provide executive in-house training for those teenagers with a yearning to be a part of the hospitality industry and that have a sense of adventure running through their veins.  This all takes place under the wonderful roof of their Windermere Suite, the perfect location and hub to promote inspiration, passion and create exciting opportunities.  It is here they will enjoy meticulously tailor-made training sessions that will develop their skills in a luxury format.  From how to carry a tray to how to address a guest, the participants will be knowledgeable experts in all aspects of this hotel family's daily life.  The few days they spend with Lakeside's staff is always guaranteed to spark something within these young souls.  They truly get a chance to be a part of this world this hotel has fabricated and what it means to be the absolute best at what you do.  For hospitality on this scale is not just taught, but something that is in you.  It is in each one of the employees, in the history of the hotel's walls, it glides in the air and it is in your favourite glass on your favourite table overlooking your favourite view.