Our Tips for Wellbeing Perfection
There are magnificent opportunities to raise the spirits, rejuvenate the body and escape the noise of life, at Lakeside.  This modern-day world and everyday pressures mean that it is a wonder we get the chance to take a breath at all.  Where finding a moment to connect with mind, body, soul and nature is thin on the ground.  Sometimes we just need to take time out to find balance.  Sometimes we just need to stop and rest.
Here are a few helpful tips on finding that balance and a sense of wellbeing from our AVEDA Spa Manager, Sharon Slater.
If your Body is at Rest, then Naturally your Mind Will Follow
With most of our guests booking treatments with us, we ensure that they continue to receive the excellent customer care that Lakeside brings. Plus, the added relaxing touch of course! I believe the reason that sets us apart from other spas is our expertise at customising the treatments we offer. A bespoke service that benefits your mind and body's wants and needs to perfection. At the end of the day we want all our guests to feel relaxed, special and important throughout their stay. Our most popular treatments are our massages, which offer a variety of techniques and disciplines. All treatments use the AVEDA pure flower and plant essences combined with our expert knowledge.
Here are a few of our AVEDA Signature spa treatments that our guests enjoy adding to their Lakeside experience.
To Relieve Stress…
I would recommend our 'Stress-Fix Body Massage', which will decrease stress levels using Aveda's stress-fix aromas along with Swedish and deep tissue massage techniques. For a heightened sense of calm, we finish off with a pressure point foot massage to revitalise you inside and out.
To Find Balance…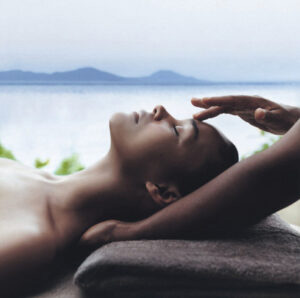 I love the 'Chakra Balancing Massage' for this. It is a unique treatment that focuses on the seven chakras of the body with various techniques, using our AVEDA chakra balancing blends. It is not just an everyday massage, we combine reflexology to stimulate a reduction of stress and muscle tension. I recommend having this massage in the morning, as it will leave you feeling energised and ready for the day ahead.
Try Something Different…
I would encourage the 'Aroma Massage with Hot Stone Therapy', for guests who want complete relaxation. We use hot black basalt stones to stimulate and release tension in the muscles. It is a fantastic way of getting to those difficult to reach zones and provides the ultimate aid to healing and getting you into that peaceful place.
Not Much Time?…
We offer 45-minute massage treatments for those who are short of time. Our 'Pressure Point Massage' is great for overall relaxation whilst our 'Ayurvedic Head Massage' is ideal for guests who suffer from aching shoulders and neck tension.
TIP: Let your therapist know any areas of tension so that they can focus on them during your treatment.
Find Peace in your Own Thoughts
I always encourage our guests to continue their relaxing journey with us in the Oval Lounge. In my experience, there is an element of 'rushing' in most spas after treatments. We pride ourselves in ensuring all guests feel relaxed and experiencing the hotel at their own pace. There are no advantages of unravelling all the benefits from your treatment, by walking back into a stressful environment. You will undo all the good work! This space provides escapism in reflection and replenishment of the soul, as it is tucked away from the hustle and bustle. You can really appreciate the sound of silence here, so be sure to take your time. Boasting the optimum view of the Lake, I think it is the best room to spend time in – apart from the bar of course!
Tip: always stay in your robes as long as you can, after your treatment. The aromas from the massage oil will continue to relax you – make the most of it!
Discover Mindfulness in the Mountains
You only have to step out into the fresh air to feel your mood lift and tension evaporate. Imagine stepping out into the Lakeland landscape and encountering breath-taking views, tranquility, nature and wildlife. You will soon reap the rewards of a flawless breakaway and mindful escape, as your body and life find balance. Take a walk in these hills, and the shoes of William Wordsworth, who also ambled his way to a restoration of the soul. Experience the magic of water and embrace the beautiful Southern tip of Lake Windermere. Let the sail relax and soothe a chaotic and highly stressed mind and feel your cares ripple away with the current. It is common knowledge that nature truly brings moments of awe and a time of perspective in this hectic world – so take it all in! You will find it all here, at Lakeside and the Cumbrian landscape. Surrounded by clean air, crystalline water and rich rural soil – you will simply feel better.
Find Beauty in the Botanical
Our guests often head to our award-winning gardens for quiet contemplation or a restful walk.  For, what is more beautiful than being surrounded by nature itself?  You can capture such essence in many places on the estate.  Take advantage and unravel in the magnificent Lakeshore view as you sit, ponder and relax.  If you have treated yourself to one of our four garden rooms, you will have your own private garden space.  These residences portray different garden themes, that have been cleverly created and designed by Roger Thresher our former Head Gardener.  I particularly like the 'Calm Garden' for its serene shades of white and green and the circular lawn that promotes a feeling of peace.
Tip: listen to the rhythm of your breath while you walk. Meditate and gather your awareness, which so often becomes distracted back home. You will find rest and reflection in the hills and a restful sleep back at the hotel.