Indulge in the Grandeur of a 2018 Corporate Christmas Party at the Lakeside
The Lakeside Hotel is so magical this time of year and together with the majestic festive trimmings, welcoming hospitality and the utter perfection of the Windermere backdrop, it is a winning destination for Christmas corporate events.  Being a guest within these grand surroundings, that this hotel effortlessly brings, is just the tonic and treat to show your employees, customers and suppliers your appreciation.  A chance to host an elegant party to celebrate the end of the year and delight in the future to come, will certainly be a Christmas to remember.  Conveniently dwelled fifteen minutes off the M6 and close by to Oxenholme's train station, it provides a fitting location for all your guests.  The perfect hideaway by the tranquillity of the Lake and a much-needed retreat from the bustling city and work life.  It is the place to enjoy an evening of fine dining, fine wines, unique entertainment, general merriment and restful sleep in opulent style.
Private Dining 10-40 Guests – The Atmospheric Oak Room & the Vibrancy of the Spice Room
Soak up the sophistication and privacy that the Oak Room brings, as you dine and drink wine in the traditional setting and bask in the warm glow of the crackling fire.  Laze within its secret walls or open the grand doors onto the Conservatory for the wonderful Lake Windermere view.  Perhaps the flamboyant and colourful party space of the Spice Room is just perfect for your small party to be entertained and dined in.  Or maybe the Ruskin Brantwood Room of glass and modernity might be the ideal location to impress all manner of guests.  For that little added extra and splash of sparkle, the Lakeside Hotel can provide various elegant experiences that will light up your stay.  Take Afternoon Tea in the Terrace, sip and create your own cocktails in a private masterclass before dinner or spend an evening of cheese and wine with their chefs.
Book a 2-course lunch of local treasures from £21+VAT or opt for an extra treat with 3 courses from £24+VAT
Relish in their Cream Tea on The Terrace from £12.50+VAT
Make way to the evening and a 4-course dinner & coffee from £33+VAT
*From the 1st December until mid-December, Saturday night's dinner is served to the welcomed sounds of live jazz*
Private Parties 30-80 Guests – The Exclusivity & Space of the Windermere Suite
This event venue has the ability to elegantly house larger parties seamlessly and offers the delights of a private bar,
lounge area and glass screens that zone areas for celebrating and relaxing.  Due to its vast space, the entertainment possibilities are endless and could be a backdrop for themed casino nights or an evening with a DJ and their famous dancefloor.  You could be whisked away to jazz notes, cognac and a Winter masquerade ball.  Or maybe a night of giggles amidst a murder mystery and comedy waiters will be the perfect way to please and tease your guests.  For a dash of the individual, the hotel can help design your very own tailor-made menu of buffet treats or an extravagant four-course dinner, with their head chef.  Whatever your heart desires, the Lakeside Hotel is there to make it all become a reality this Christmas at the Windermere Suite.
Relish in their Festive Dinner Menu from £29+VAT per person
Sleep Soundly & Dream Softly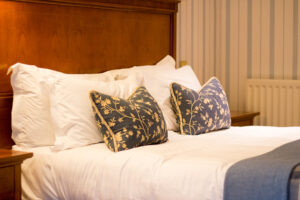 Make the most of your time here and stay the night in one of their beautiful rooms for a restful night's sleep after an evening of festive enchantment.  With 75 breath-taking bedrooms that all house exquisite interiors, soft Egyptian cotton sheets, Hungarian goose-down duvets and picturesque views of their pretty surroundings, your guests will get a taste of the finer things in life.  Their Ultimate Lakeview Rooms & Suites enable you to feel splendidly cosy, as you sleep by the Lake.  These exceptional rooms boast panoramic views and a private terrace for a morning of room service and a peaceful breakfast, before a day of exploration.  Other luxury rooms include the Woodland & Lakeview Rooms and the English quirks of the Country House Rooms, which all provide dazzling views of the hotels' exquisite estate and beyond.
The Lakeside's party rates for Bed & Breakfast from Sunday – Thursday, as a single occupancy, from £75+VAT per person and Friday, as a double occupancy, from £139+VAT per room
A Few More Reasons…
Just to tempt you a little further, their private dining packages offer an exclusive 20% discount on all group account bars and two for one on all bottles of wine from their Festive Wine Menu.  All Windermere Suite parties will receive a 20% discount on all cash or account bars and of course two for one on all wines selected from the Festive Wine Menu.  The hotel will also provide larger events with raffle prizes of special hotel experiences throughout the evening.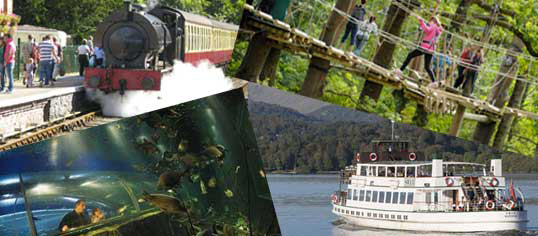 Why not take part in a dose of innovative and inspirational team building activities before a spot of lunch?  Perhaps something fun-filled that makes the most out of this glorious landscape the Lakeside call home.  Whether it be on the Lake or off the Lake, due to the hotel's close relationship with local companies they can organise, plan and make it happen.  A great way for your team to develop old skills and enjoy discovering new ones in a relaxed environment.  All activities are on request and would need to be booked in advance to avoid disappointment.
Let the Lakeside Hotel infuse that extra glamour and glitz to your corporate party by organising a completely bespoke event for you and your company.
Call 015395 30001 to start planning a night filled with Christmas cheer in the countryside and to make magical memories that will last way after the last bottle of champagne!